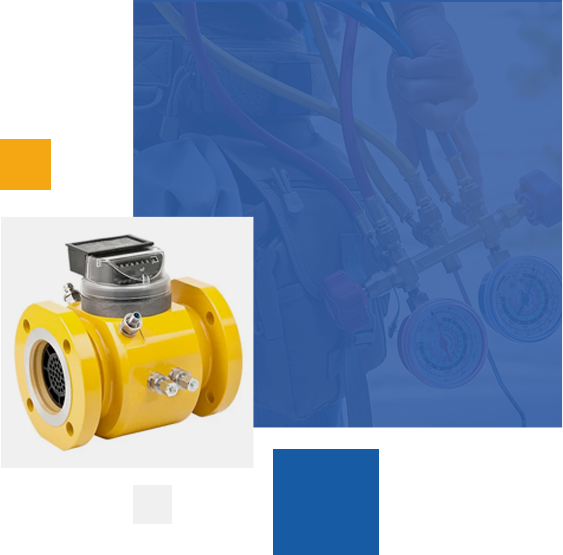 Correct gas metering is an important aspect for many businesses. Improved safety, energy and cost reduction using digital meter readings is highly beneficial to many industries. It's important to understand how this equipment works, the benefits it has for your company and why you should choose Vermac as your meter supplier.
Vermac provides a range of professional gas meter units and equipment to a variety of industries throughout Ireland. Gas meter reading units help in volume distribution, safety reporting and understanding the flow rate of instruments.
From G6 to G10000 we have gas meter sizes for every industry. We stock and supply rotary, diaphragm and turbine digital meter reading units. 
Allowing us to meet customer needs no matter the production and manufacturing company that you are in. Meter reading continues to be important for many industries across Ireland. 
Why Vermac?
Vermac not only supply high-value equipment for heat, manufacturing and monitoring we also train employees, conduct safety audits, service and calibrate equipment. 
Working with a variety of industries over the past two decades, Vermac knows what heavy industries in Ireland need.
Contact Vermac for any energy, meter or usage questions. As a leading supplier in Ireland, we are always happy to help.
Gas Meter Reading Devices
Rotary Gas Meter:
A rotary displacement meter is a positive displacement meter designed to measure the quantity of gas for custody transfer and technical measurement applications. Our range of rotary meters includes EMR G25, EMR G400 & EMR G650. Check through our gallery of available units.
They are suitable for natural gas, LG and various other production gases. Rotatory meters can handle higher pressure and are suitable for most heavy industries. They are primarily used for custom transfer and technical measurement.
Use both dials and digital information for correct usage.
Axial Flow Gas Meter
Ideal for cramped workspaces and areas where room is key. The EMT-LX G65 is designed for custody transfer gas measurements of all non-corrosive gases while their compact size allows for the smallest possible install length.
Both dials and digital information transfer are possible.
Radial Turbine Gas Meter
The Radial Turbine gas meter range includes EQZ 316, EQZ G25, EQZ G40 offer precision secondary metering. Our team can install and maintain equipment across most shop floors or supply them to your company for in-house installation.
Diaphragm Gas Meter
A diaphragm meter is a positive displacement natural gas flow meter. It is one of the oldest forms of gas meter reading, formally using dials to track energy and gas usage.
These meter reading devices are best suited to lower capacity commercial units.
How a Diaphragm meter works:
A continuous flow is directed by internal valves that can fill and expel gas. This allows for accurate reading and is perfect for smaller commercial enterprises. Though affordable, diagram meters do require a service from time to time.
We are a supplier of Pico elcor diaphragm meters, a more modern version of the dial clock meter. Once again reading can be done via dials or digital.
Meter Reading & Heavy Industry:
We are suppliers of a wide range of meter reading devices, volume correction tools, detection and safety equipment. Tools that are designed, installed and maintained to ensure compliance and safety in Ireland.
Meter reading is one part of much larger operations. Though they are incredibly important, a meter read can alert you to leaks and overuse in certain operations. They allow for the safe transfer of gases and establish ways to reduce energy bills.
Showing 17–22 of 22 results