Burners
Vermac Gas Systems represents Tecflam, a burner manufacturer with over 35 years experience in the design and manufacture of Gas Burners for a variety of applications. Tecflam are proud of their track record and work closely with their customers to assess the customer needs and provide the best solution.
Tecflam burners can be designed to work with LPG or Natural gas and come in a variety of shapes and sizes to match your specific application and set up. Tecflam burners are often used by plant manufacturers in the designs for their machinery.
No matter what your application we can assist you in finding the correct burner for your needs. With extensive experience in the following areas:
Read more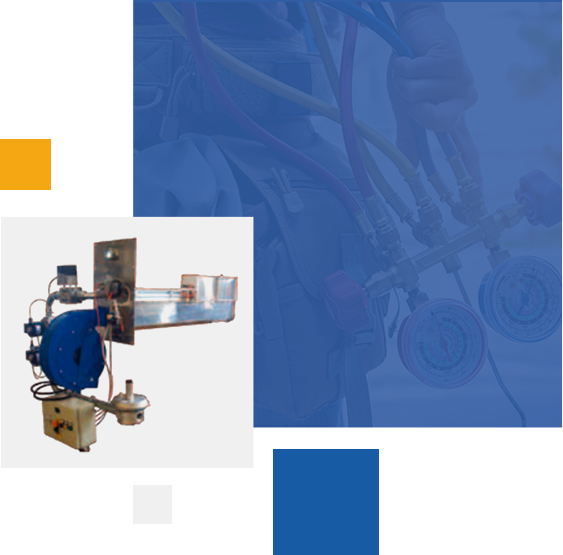 Vermac provides our customers with only the best equipment to undertake their production and manufacturing tasks. That is why we have teamed up with Tecflam to provide only the best industrial burners to the Irish market.
Industrial burners are safe and reliable tools that form a large part of the manufacturing and production processes in many industries throughout Ireland.
Tecflam burners can be outfitted to work with natural gas, LPG, Oil, kerosene, diesel and other hard fuels depending on the needs of the customer.
At Vermac we specialise specifically in gas burners, detection and monitoring systems.
Burner uses:
A gas and oil burner can be used for various manufacturing, packaging and waste management's services including:
Cereal drying
Waste incineration
Paint drying
Ceramic and brick ovens
Steam and hot water boilers
As you can see from the processes there are various sizes and controls which need to be put in place by the engineers here at Vermac to ensure safety.
We undertake routine check-ups and maintenance of equipment throughout factory and workshop floors.
We have decades of experience in the installations and maintenance of manufacturing and production equipment, which we use to assist your business.
Specialist in the areas of burner, detection and volume correction, this slows us to provide our clients with the knowledge and insights into how to correctly use burners and the correct operating procedures to follow. 
Some of our burner products:
Linear burner:
A Linear burner is several burners aligned to create one continuous flame. This is most often utilised in the drying and packaging of products including cereal, concrete and brick drying and packaging and shrink warping.
The heating process can be monitored remotely and used on conveyor belt systems.
Poly fuel burner
A Poly fuel burner is often used in steam and water heating production due to its cost-effectiveness and as specific fuels are not required for such a process.
Incline burners
Many incline burners are used in waste incineration and the heat produced is reused as energy throughout the factory floor. Incline burners are ideal for large factory floors or location that produce large amounts of combustible waste.
Benefits of using gas burners over oil burners.
Gas burners have several benefits over oil burners. Gas burners are much safer on several levels as they can be outfitted with detection and monitoring equipment ensuring that leaks and drops in pressure are reported immediately and corrections made rapidly. 
Unlike oil, gas does not have to be stored on location in many areas as it can be brought in from main lines. Therefore, it reduces the amount of storage space required and there are no additional costs associated with storing such fuel.
Low emissions from gas systems are far less than that of oil and the knock-on possible pollution or contamination to your products is greatly reduced. This provides greater efficiency to environmental efforts.
The performance of gas burners over solid fuel cannot be overstated, with gas you save on costs and increase capacity throughout the production period.
On top of this Vermac has an incredible track regard regarding the installation and maintaining of all detection, monitoring and volume correction within industrial settings.
We meet all safety and regulatory standards and pride ourselves on providing only the best burner and detection equipment.
Final Words
Contact us today to view our range of production and waste systems that are ideal for your business.
We provide support and information throughout the purchasing, installation and maintenance period that you work with us and beyond.

Cereal drying

Packing and shringwraping

Waste incinerators

Ceramic and brick ovens
Drying ovens

Paint drying

Bitumen / Cement

Steam and hot water boilers