Gas filters
Vermac Gas Systems supplies Gas Filters in variety of sizes with both flanged and threaded options. The body and lid of the filters are made of Die-cast machined aluminum with a filter inset used to capture impurities. These filters are suitable for heating gases, air and non-aggressive gases
Vermac Gas Systems recommends the use of filters before equipment like gas meters and burners.
Read more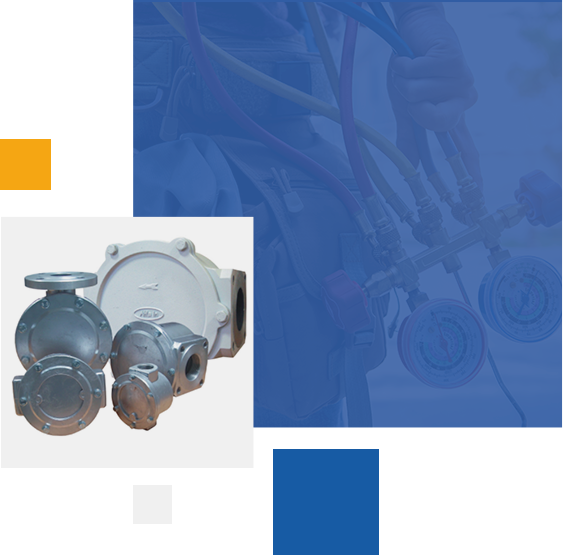 Industrial grade gas filters are designed to work in tandem with your other operating equipment to remove impurities and ensure a clean and functional gas supply. Our filter units work mid-flow and close to other operating equipment, removing impurities and particle pieces as they flow through your network.
A reliable filter will help you maintain a steady gas flow, allows for accurate volume correction, detection and performance of gas levels and maintains equipment safety and cleanliness. A Filter thus allows you to reduce maintenance and call-out fees and allow for the maximum use of the gases that you are using on your production floor.
Who is Vermac Gas?
Vermac gas provides a wide variety of safety and maintenance tools to industries throughout Ireland. We work to maintain production and safety lines for our customers. We do this by providing the best industrial products available and offer other services such as maintenance, installation and monitoring of tools by our team of professional technicians.
Having been in the heat and gas industry for over 20 years, we understand the product range that we stock and provide and only work with the best suppliers in the industry:
Vermac Gas & Gas filters:
All our gas filter units are provided by Alfain and follow the same basic principles. The body and lid of a filter are made from die-cast machine aluminium making them extremely durable.
We recommend using a filter in tandem with burners and gas meters to ensure you get the maximum usage from your gas pipeline by placing them in proximity.
Our filter products are suitable for heating gases and other non-aggressive gases. Making them the perfect tool for most manufacturing, packaging and food processing tasks.
The filter units come in both flanged and threaded options making them suitable as replacement units or as part of a new build.
Vermac gas is happy to install, service and run safety testing to ensure all units are working to a satisfactory level while meeting all safety standards.
The gas filter units supplied by Vermac allow for the removal of even the smallest impurities, cleaning and maintaining your gas system longer period. They ensure constant gas flow and continued use, providing you with the best operating system possible.
A fine filter can be used on delicate systems such as glass cutting and other precision trades. We have systems that work on low flow rates, so even the smallest shop floor can benefit from a professional filter system.
Alfain Gas Filter standard features
Alfain gas filters are compliant with EN347:20004 making them suitable for heating gases, air and non-aggressive, ideal for low impurity operations. Alfain and our technician recommend inserting gas filters before gas meters, valves and burners as this will produce the best results for your filtration system.
The Alfain units we supply can work on pressure levels of 0.4,0.6 and 1.6 MPs and temperatures of between -20C to +80c. This is more than enough for most industries that we work with within Ireland. Should you need filters outside of these parameters, please contact Vermac directly.
With three primary components consisting of the body, cover and resilient filtration carriage and each being made from cast iron, the units are durable and can handle high-pressure use.
We will look at some of the units and their characteristics.
Gas Filter Range
FO 100F
FO 150F
FO 200 F
FO 20F-Z
FO 25F-Z
FO 32F-Z
FO 40F-Z
FO 50F-K
FO 50F-Z
FO 80-F
FT 50
FT 80
Why choose Vermac Gas as your Gas Filter supplier
Vermac gas-only work with the best suppliers in the industry. By teaming up with only a handful of quality suppliers we gain a better understanding of the tools. This knowledge can be passed along to our customers and clients throughout Ireland.
Alfain has been paving the way in gas filter technology and safety tools for over 20 years. We exclusively stock and simply Alfain gas filters. Along with our product range of filters, we also supply gas meters, burners, volume correction and gas detection equipment.
These tools used in tandem with one another improves productivity by reducing and eliminating impurities in your gas network, highlighting leaks and areas of improvement in gas usage and most importantly improves safety across an array of industries. We work with businesses that are dependent on time, production and busy workspaces.
Unsafe and old gas networks can be detrimental to a business and reduce its safety rating. Vermac gas provides our clients with only the best equipment and solutions to the issues they have.
Working with a small number of suppliers means our technicians know the ins and outs of all the equipment we supply. We can install, service, test and maintain equipment far better than the competitor. 
Why we choose Alfain:
Alfain is a Czech manufacturing company with a proven track record of providing expertly crafted and welded devices from gas filters to transformers, welding machines and power generators.
Maintaining a controlling quality ISO 9001 certification since the year 2000, they remain one of Europe's top gas filter manufacturers operating both within and outside the EU. By partnering with Alfain we can procure expertly crafted devices at affordable rates for our clients throughout Ireland.
With a product range of over 100 items, Alfain is experts in its field. Providing equipment and know-how that we can then pass on to our customers.
Vermac Gas & Heavy Industry in Ireland
Below is a sample of the broad range of gas systems that we have worked on within Ireland. This will give you an idea of the importance of Gas products and our track record in Ireland.
Milk Processing (Whey-Casein)
Cheesemaking
Meat processing
Powder coating
Product finishing
Plastic rotational moulding
Crop Drying
Paint Curing
Brewing
CHP applications
Ceramics
Packaging
Air heating
Drying Ovens
Kilns
Water Heating
Process Air heating